Today was Baby Hulk's first field trip of the school year.
And he stayed home with me.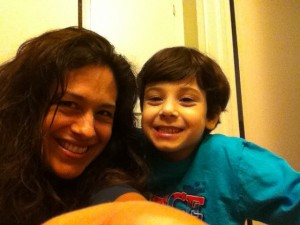 Yes, it makes me happier than anyone can probably realize that he wanted to be with us rather than go on a field trip.
After lunch today, I caught him looking at  me through the rear view mirror.  "I love you, mom."  Then "thanks for letting me stay home with you today."  And that sweet, sweet face of his with such a serious look.
Heart melt…Another "if I cried moment".  (This is why I blog, to record that I have actual feelings about things.)
I'll be fair: he seems happy most of the time at school.  And I'm glad.
I am.
I don't want a miserable child.  That said, the fact that he wanted to spend a free day with me made me so happy.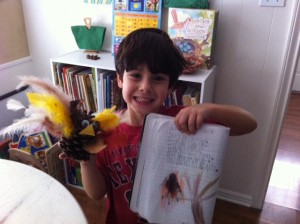 He planned the day: we went to the Audubon and had a unit on Owls.  He charmed the docents while there and told them he'd try and return, but that he was in school now.  He requested Double Dave's pizza buffet with my parents.  They must miss him too because there wasn't a complaint about how far they'd have to drive for a pretty quick lunch.  He came home and we read, played and made a journal entry about our time at the sanctuary.  All too soon it was time to pick up Goose and Squirt which meant our day was coming to an end.
And end it did.  His lunch is packed with a sweet note for him to read tomorrow.  He's sleeping after having several stories and ending our night with a poem about owls.  I cherish this time.  How I wish I could hold that sweet look in my heart forever, remember the trust and innocence on his face.
I had a couple of parents let me know they didn't agree with my decision to keep Baby Hulk home from school today.  I will never force my kids to attend a freaking field trip.  I'm fine with my decision to let him stay home today.  In fact, it was an easy decision to spend a day with my son.  We both learned more today than had he been at school.
So today, I'm thankful for a chance to have a field trip with my son.