Our favorite poet, Douglass Florian, has a book for each season.  It is taking all my strength not to buy each book for our nature collection, which is mighty small, but proving to be a huge interest in this house.
One of our favorite poems is titled: What I Love About Summer.  It's a great poem, bringing back memories and making me wishful that one day we will gain some new traditions/memories, (read: live in a different climate).
I had each boy write their poem.  They weren't required to rhyme.  I thought I would do the same as well.
What I Love About Summer
N. Zierlein
Late mornings
Long breakfasts
Playing outside in pj's
Swimming
Reading in the middle of the day
Miller's Outdoor Theatre
Afternoons at the library
Long weekends
Family vacations
Birthdays
MY birthday
Afternoons at the library
Play dates with friends
NO SCHOOL
Evening workouts
Ice Cream
Watermelon
Peaches and Plums
Berries
Cantaloupe
Evening rainstorms
Fun pedicures
My anniversary
Time with my family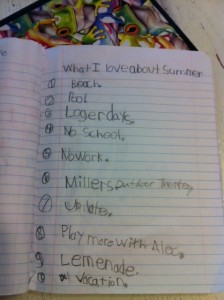 Baby Hulk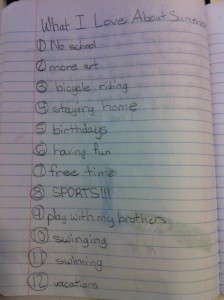 Goose