Watching your kids play together is a dream for any parent, I'm sure.  What I have loved watching is the creativity.
I admit that for half a second my first thought was "who is going to clean up this mess."  Thankfully, I kept my mouth shut and just ran for the camera.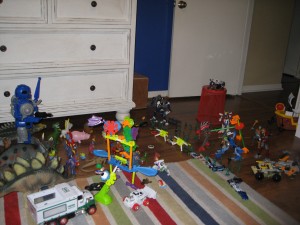 The best part of this was that the three older boys made this.  When Goose and the Baby Hulk were concerned about the size of the fighters, Squirt came through with his trusty Bionicles.  He's been saving them for the boys.