For today:: February 3, 2016…seriously, 2016?  How did this happen?  Time seemed to stand still when I was growing up.  Now that I'm a mom, it won't slow down no matter how much I pray.
I'm wearing:: workout clothes.  Some things will never change.
I'm listening to:: my daughter.  This girl never stops talking.  Even when she's sick.  Generally, I love it.  She's a bit obsessed with death now.  Specifically, me dying and what happens if I do.  And Liz Phair.
I'm grateful for:: the time I have with Marianna.  I think back to the day she was born, five years.  Never could I have guessed it would be like this.  She's pretty attached herself.  But she's just fun to be around.  She is funny, sweet, has the biggest heart and is a beast.  I hope she always wants to be around me.
To be fit and happy:: major sigh….I ran the half and had a fairly decent time, 2:02.  But it wasn't my goal.  I wanted to run the full and honestly, running for two hours isn't that hard for me.  I should have never said that to anyone else because the week after the half, my hip started hurting like crazy again.  It's miserable, and I don't think I can run the Austin half in 11 days.  So damn frustrating to me.  I really enjoy running, have goals to raise money and have a spot in Chicago full next October.  Trying to figure out what I need to do about this hip.  (Posting my picture across the finish because I love how different it is from the full finish.  My feet actually leave the ground in this picture while I was barely moving last year.)  Meanwhile, what else can I do for exercise?  I'm kind of over the new spin instructor.  I'm fit, but in pain and not happy.
I'm praying for:: my dad, he is having some tests run this week.
I'm reading:: Searching for and Maintaining Peace.  It's a tiny, tiny book and it's taking me forever to read.
My resolutions:: spend more time with Lance and the kids, completely redo my kids' rooms with one finished by the end of the month, read some books from my list, learn Spanish, see my family, see my friends, lose those extra 8 pounds I carried all last year, go to confession, blog more than three times in a year, invite a priest for dinner and enjoy life at home and away.  This year, nobody is stealing my Joy.
Movies:: I'm so behind on movies.  It's the same every year.  I have seen The Big Short and Spotlight, both amazing movies that really make you hate people who have control.  One of the things I love about these two movies is how well cast they are.  There is nobody who does a poor job.  Just so good.  I've also seen Brooklyn and Room.  Fabulous acting, but I really wish I could get Room out of my head.  I'm really interested in seeing Carol, The Danish Girl and The Revenant and then the documentaries.  I'm alone this year for the Oscars, damn Combine has Lance and then my friend Barry just moved to NYC.  I am super bummed about this.
On the menu::  I am so bored with food with right now.  I am scouring old recipes and looking for new ones to get a groove.  I'm cooking, but not liking what I'm making.  So this week, I'm hoping that changes- we had soup and Irish Soda Bread (for the feast St. Brigid), today we are having Chicken Fried Rice, tomorrow is homemade gyros then Shrimp tacos on Thursday and Salmon on Friday.  Hoping for something super yummy or just margaritas on Saturday.
I love these two:: they got up extremely early to be there for the start of the half.  I love the support I get from them!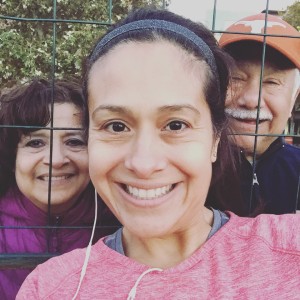 Living the liturgy:: ah, ordinary time, how I love thee.  It gets us back into a nice rhythm and focus.  But time is running out, Lent starts next week.  Need to order the book we are following for Lent today and make some other plans.  I think I know what I'm giving up this year.  February also gives us some favorite feast days.  St. Brigid was yesterday and we made our crosses, today is Candelmass and tomorrow is the feast of St. Blaise- we'll be heading to mass for the blessing of the throats.  Gotta make sure my voice always works!
Planning:: well Arizona lost last week which put an end to a SF trip.  That's fine, it would have been awesome to be with family for another Super Bowl, but it wasn't in the cards this year.  Instead, we're off to NYC to see Hamilton.  I can't wait for this show.  We're hoping to go before the draft or is that just wishful thinking.  I've got a wedding to attend in May, the daughter of a law school friend.  This will be the second wedding of a friend's kid.  What the heck!  Random, both are law school friends.  I'm trying to actually plan our summer trip before school ends this year instead of waiting for the last minute.  Nobody seems really interested in helping me though.  Basically, I'm planning the rest of the year.  I can't stop myself.  I literally can't.
Around the house:: kids' bedrooms.  I have an extra room now that Drake moved out and need to fill it with two kids.  Then I need to buy new beds for Snax and Marianna.  And then clean out some rooms, donate some toys and clothes and make some magic!  Goal for one room is two weeks which means I might want to finish the doors and clean the paint off the floors this week.
One of my favorite things:: planners.  It may seem silly in this day of smart phones, but I love using a planner.  I got rid of my EC and found a planner I really like.  It's pretty fabulous with planning pages for Birthdays, Christmas, Easter and Thanksgiving.  Each page also has things to check off daily, mine are prayer, abs, stretching and read aloud.  Want to know what I miss the most?!  My only quibble is that it's a bit too small- I don't write neatly, I use my planner to record all activities plus Marianna's work so more room would be nice.  But I'm sticking with it for now.  My cousin also loves planners so we go back and forth about them.  I think she's now convinced me to try a page a day planner next year.  We'll see, I'm not good with change and not seeing a week at a time is hard for me, but maybe I need to use my monthly pages better…BUT…If I homeschool Marianna next year, then I definitely need a page per day.  Seriously??? I could talk planners all day long.
A few plans for the week:: swim lessons for the beast, nature class, story time and reading.  Lots of reading.  Fingers crossed, but we're finally in a good groove again for reading.  And I like it.  Want to hit Galveston this weekend, but not sure it will happen.  I do know margaritas are happening.
A photo to share::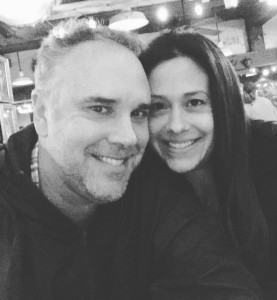 A picture from the anniversary of our first date.  I commented on IG that our first date was incredible~ two Oscar nominated movies, overpriced dinner, cheesecake at Copelands and talking in the parking lot for an hour without even a kiss goodnight.  Best date ever.  This year we had overpriced food at the Texans game, saw an Oscar nominated movie and went to have a drink.  I got the kiss.