Thinking about the new year always makes me excited.  There's a new planner to fill which I'm anxious to use.  I had to purchase a new brand because my other one was stolen in San Fransisco.  I've yet to let go of that incident despite telling the story at least 20 different times.  I took a lot of time researching a new planner, and I'm not sure I even like this new brand.  Regardless, filling it in with birthdays and Saint days and trips and other special events always gives me hope for the new year.  Even my kids know how much I depend on my planner.  Mason asked me today if I had ordered a new planner.
Before I start writing in that new planner, I wanted to try and reflect on the past year.  Everyone has been saying how 2016 needs to end, and well I'm just as anxious as the next person for the new year to start except that whole new president part.  2016 hasn't been my favorite year, but it's hardly been the worst year ever.  That said, the recent deaths of childhood actors and singers makes me sad.  Life is short.  Too short.  It's too short to stay mad at people, too short to focus on the negative and too short not to find the good in people and for today, in the outgoing year.  So for my memories, here's a long recap of the year, things me and mostly the kids did all year.
January- I started 2016 working on a puzzle and my first kid moving out.  As in he literally left the house 12/31.  Staring at that empty room was hard.  Harder because Lance was out of town.  It was me and the younger four all trying to stay up.  The night ended with me and Mason taking pictures and Alec passed out on the couch.  That puzzle?  Never finished it, (was that a sign for the year?) finally had to put it away and am actually taking it out again if I ever finish this post.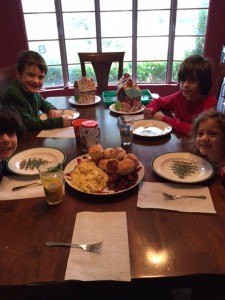 A hip injury really screwed with me last year.  It started in November of 2015.  I was able to run the Houston half, but by May was sidelined for six weeks.  This is my favorite picture.  Lance thinks my parents look like they are in jail.  No matter what, they are always there to support me.  Even getting up and driving to see me off on what really isn't that big of a run to me.  But to them?  It's a big deal.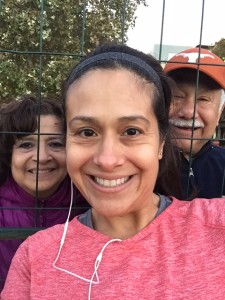 February- The kids all play basketball at the YMCA.  I've tried different leagues but they are all about the same.  Mason is turning out to be a pretty good player.  This buzzer beater was awesome.  The fact that another parent filmed it has let me relive this shot over and over.
Hit link to see Mason's shot!
I also ran the Austin half with one of my cousins.  I decided after that half that I won't be running the Austin full.  Ever.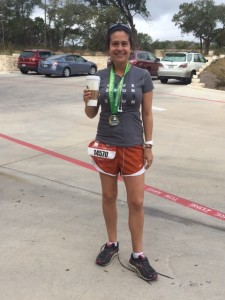 March- The only thing I really remember from this time was Lent.  Sure it started in February, but March was where I grew.  Or rather tried to grow!  I did a Whole30 for my sacrifice which was really 46 days.  46 days of NO SUGAR.  Forget the rest of whole30.  There is only one thing that matters in my life outside my family.  And it's sugar.  Every. Single. Day. I thought of sugar and when I could have some.  Specifically cookies and cake.  Easter Sunday, you could say I indulged.
Alec made me so proud this Lent.  He gave up Big Snoopy.  I don't even know how he did it.  Giving up alcohol and even sugar, reading labels nonstop, that was nothing compared to his sacrifice.  He also served Holy Thursday, Good Friday, Holy Saturday and Easter Sunday.  I have never been so proud of him.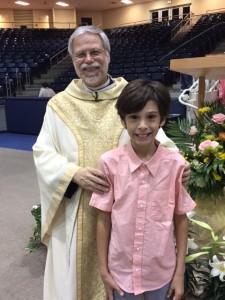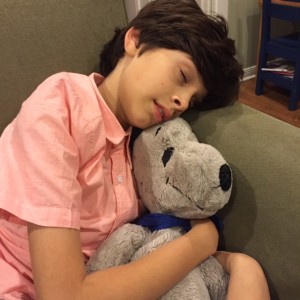 April- Lance works really hard at his regular job as well as for the NFL writing up players entering the draft.  Its a lot for him.  And me, because he's gone all the time.  As an end of season and thank you, we take an NFL trip.  When he asked where I wanted to go and started giving suggestions that weren't NYC, I stopped him. There was only one thing I wanted to do and that was see Hamilton.  And we did!  Everyone always asks us how we managed to get tickets to the hottest show in the country.  We paid.  We paid a lot.  IT WAS WORTH EVERY SINGLE PENNY.  LMM created an amazing show and I can't wait to take the kids one day.  But last April was for us.  And I'm so glad we spent the money and went.  I still get giddy thinking about the show and the cast,the original cast.  We also managed to snag dinner at our first Michelin star restaurant of the year.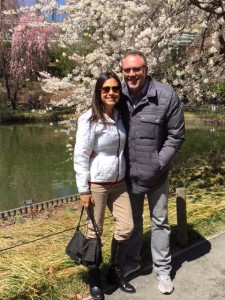 May- Three weeks later, we left for Chicago and the Draft.  Lance worked and I tagged along so I could eat and see Paul and Brian.  My favorite meal of 2016 was at Grace.  We're into tastings and Lance had seen the documentary about this chef and made arrangements to go months in advance.  Poor guy got diverticulitis and couldn't really eat.  I was fine.  And I ate.  And it was incredible.  A few days later, the chef won the James Beard for his region.  I spent the rest of the weekend with Paul and Brian with Lance joining when he could.  We had donuts, more Michelin stars, saw a play and just enjoyed each other's company.  It was a near perfect trip.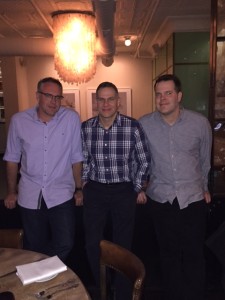 We also had a birthday in the family.  Drake turned 21.  Yes, I have a 21 year old now.  And you know what?  He's living on his own and doing pretty well.  He doesn't always do what I want, but he's living his life.  He's paying his bills and making memories.  And now he's 21 and can drink.  Sure, he would have before then, but he didn't and I'm glad.
Lance and I left town again for the wedding of a law school friend.  It was so much fun seeing him and another friend from law school.  It was a short weekend but I'm so glad we went.
Also, my mother?  Seriously, she is amazing.  Three trips in 7 weeks.  Only one of those for a Friday morning to Sunday morning.  The others were Wednesday to Sunday.  And that doesn't count what she did in the Fall.
June – Snax received his First Holy Communion in June.  It was so special.  This kid is hilarious.  He's just Snax.  He's loud.  Really loud.  I wondered what he thought of this sacrament because he's just so out there at times.  He took it very seriously.  I was so proud of him when he went up there and received Jesus for the first time.  And to this day, he takes it seriously.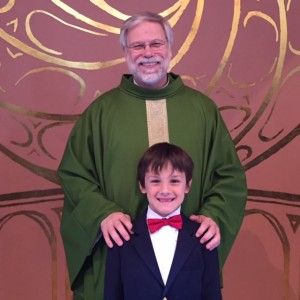 Mari started swim team in June.  She got two first place ribbons at her first meet.  I knew she was pretty fast, but didn't know how good she would turn out to be.  By the end of the season she was invited to finals which meant she was one of the top 12 swimmers in the league.
July- Two more birthdays, Alec and Snax, 12 and 8.  The sweetest thing was Alec insisting on having lunch with his uncle who shares a birthday with him.  I think my brother liked it too.  All Snax wanted for his birthday was a donut cake.  Not one to refuse a request like that, he got a donut cake.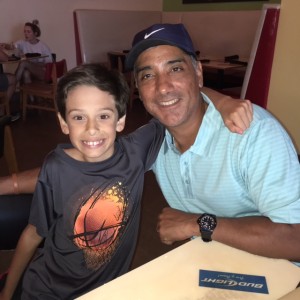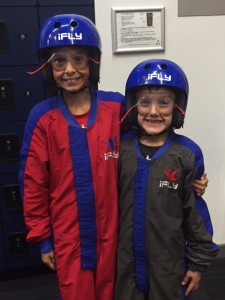 We took our summer vacation in July.  My mom and I drove the kids West to San Diego and Lance and the rest of my family met us there.  We had the best road trip.  We stopped in Roswell, the Petrified Forest, Phoenix, Sedona, The Grand Canyon, Hoover Dam, Los Angeles and finally arrived in San Diego on my birthday.  My favorite stops were the Petrified Forest and the Grand Canyon.  I'm the only one who liked the Hoover Dam.  The kids loved the Musical Instrument Museum in Phoenix.  I'm dying to go back to Sedona and do a Pink Jeep Tour.  The week spent in SD was pretty awesome.  It's a great city and we just chilled.  My favorite touristy thing was Seaworld.  I should probably feel bad, but I don't.  It was awesome, and I'm so glad we went.  The zoo was great, but it was a long day there.  And Legoland?  I wish we had just gone to Disney instead.  I think our favorite thing was the beach.  The water was freezing, but we all loved it.  I still remember the joy in Mason's face while running around and riding the waves.   On the way home we went to San Juan Capistrano and Cadillac Ranch.  Sure the kids fought and fussed at times on the road, but overall, they are really good on road trips.  And I'm learning to let go when things don't go my way or we miss something.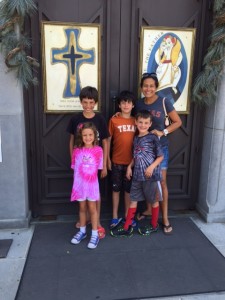 August- We enjoyed the heck out of August since school started at the end of the month.  I hated sending the kids back to school, but I'm so thankful to be homeschooling Marianna.  She is such a great little student and really, how hard is K?  It's been a great year so far and unless something changes this second semester, we're in for next year.
September- Mason turned 10 this month and we left town on his birthday.  One of the worst things I've done as a parent.  And boy did karma get me.  As we were leaving for the airport, we got a call that our flight had been cancelled.  They put us on a flight leaving much later and caused us to miss our dinner at Crenn.  We got charged 600 per couple for missing that meal.  Yes, 600.  The next day, our car was broken into while we ate lunch and they took one bag.  Mine.  I lost brand new running shoes, workout clothes, my straightener, and three other pairs of shoes.  And my planner.  I can't explain my anger over that incident.  We drove to Sonoma with a open window and cancelled our plans for the night.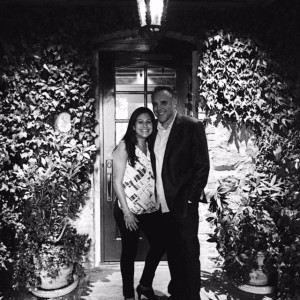 We did manage to have dinner at The French Laundry.  Total bucket list place.  It was pretty amazing and the service was just incredible.  Then the next day we went to watch the Texas game.  They lost.  Total shit show of a weekend except for one meal.
October- I ran the Chicago marathon.  I love being in Chicago.  I wish we could move there.  I cherish the time we spend with Paul and Brian.  I was sick.  That part sucked, but we still had a blast and I saw another good friend who happened to be in town that week as well.  I  was happy with my running time and felt really good running except for the last 5 miles.  Those stunk.  But my favorite was afterward.  I love seeing Paul after I do something good.  I can't explain it, but it means the world to me.  Having my three favorite men cheering me on and giving hugs along the route made it all the better.  Lance said one of his favorite things from this year was running around Chicago with Paul and Brian trying to find me on the route.
November- Ah November.  You sucked.  What can I say?  Almost 3 million people voted for HRC and we are still stuck with a POS for our incoming president.  The only positive?  I can point to him and tell my sons how not to behave, how not to treat women, how not to treat other people.  I am still upset with this election.  It truly makes me sick.  It kills me that someone like him actually received votes from people I know.  From Catholics.  I cried.  I never cry, but him winning made me that sick.  I actually cried three times about it.  Did I mention I don't cry?
Thanksgiving kind of stunk- Mari got pneumonia, Mason got bronchitis and Alec had flu like symptoms.  Lance ended up getting sick and couldn't make it to Austin to celebrate with my family.  We turned around and came home to spend the day with store bought food that was awful.
December- This year Advent was four full weeks.  We sang almost daily and read nonstop.  I love this time so much.  Mari turned six and handed out sleeping bags and her birthday money to the homeless.  That girl?  She is something special.  Then we got a stomach virus.  That. Wouldn't. Stop.  Everyone caught it including Drake who doesn't even live at home anymore!  With the exception of Drake not being able to come over on Christmas because he was puking, the day was great.  Alec served at mass, we came home and opened presents and then my family came over to celebrate with us.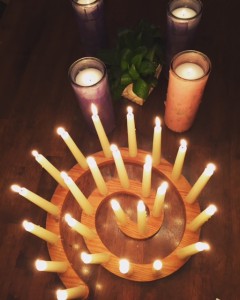 A few days after Christmas, we had dinner with old friends.  Lance has known these guys since fifth grade.  It was fun catching up and a reminder that we need to see them more often.
I was supposed to take the kids to Atlanta to see my friend and her family, but it just didn't work out.  Her grandfather got sick and then her husband could't move the morning we were scheduled to leave.  I can't imagine him having to deal with my kids while being stuck in bed.
So tonight I'm here again.  But at least, my better half is with me this year.  And so are my kids.  We all just toasted to 2017.  Let's hope it's a good one.
Tomorrow I write my goals for the year.  I did that last year and actually did all but two.  It was such a great list (long) and it kills me that I never took a picture of it.  It was in the planner that was stolen.  The top five items all complete except one- take kids to Disney, see Hamilton, run Chicago marathon, spend time with family, pray the rosary more.  We've yet to take the kids to Disney, one year it will happen.  But you know what?  It really was a fabulous year.  We went to some amazing cities, had some great meals at Michelin star restaurants and had fun being together.  I love our time on the road, but mostly I love reading to the kids and playing games and when one of them says "can you snuggle me?"  That's the life I love.  Off the top of my head, my goals for 2017 are to read more, travel, eat and spend time together.  Tomorrow we start a 31 day reading challenge, I've got dinner planned for Lance's birthday and we have our SF redo set for February and Atlanta rescheduled for the Spring.  But whether we eat at the top rated restaurant for the year or take a big family trip this year, it will be okay.  We will be together and that's what makes my year.