For Today~ July 30, 2015
Outside my window~ the sun is shining.  It's Houston.  It's hot.  It's humid.  And man, it sucks.
I'm listening to~ Something Rotten.  Lance and I saw this show while in NYC and LOVED it.  It's better than Book of Mormon.  Better.  I know, how is that possible?  But here's the thing, when BOM got boring at times in the second act, this one doesn't.  The kids heard one of the songs which led to downloading the entire show.  They know all the songs by heart and I've decided that one of my children must be a Broadway star.  I'll be sending them to Barry at HITS.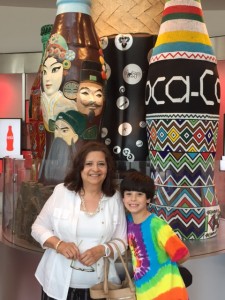 I'm wearing~ workout clothes.  It's been so hard getting up after vacation so I'll be heading to spin this evening.
I'm praying for~ an end to Duchenne and the success of Sam's new drug trial, my parents, patience and for time to stop.
Grace all around~it's there.  My life is proof of that!  But the last two weeks was further proof.  Driving to DC with my kids and mom showed that.  Vacationing in weather as miserable as Houston wasn't easy, but we had great time.  And God carried us the entire trip.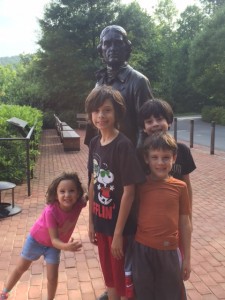 Around the house~ I got a new washer and dryer.  Here's the issue- the back is so ridiculously big on the dryer that it causes it to stick out. Like a lot. Like so much that it's been months, and I still hate it. I can't take how ranch my laundry room looks.  Lance wants a patio so it looks like we're getting one soon.  I just want landscaping but we have that pesky little dog.  Pesky medium dog who bolts out the gate and always comes back.  I don't understand it, I used to have three dogs at once.  I generally like my friends' dogs, but Lola…I just can't take her either.
Thankful for~ our vacation.  It might not have been completely relaxing, which isn't a complaint for me, I don't sit while on vacation, but it was fun.  We really had a great time.  And I can't wait for our next trip.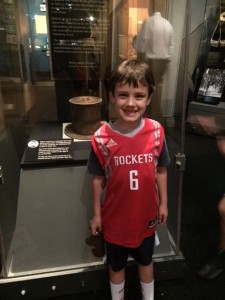 Next trip~ is to Philadelphia to see the Holy Father!  So excited about this, but this trip promises to be a bit of a logistical nightmare.  The trains in Philly are making things extremely difficult for Saturday and Sunday.  I'm spending a ton of money getting there and want to at least to catch a glimpse of the Holy Father, but I'd like to show the kids the city on Friday.  Not sure that will happen.  It seems like the city is pretty much shutting down.  This is getting really frustrating.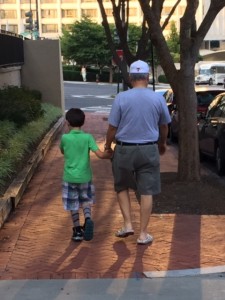 Running the National Mall~ I'm trying to rest my ankles, but how could I pass up a chance to run the National Mall?  So I ran and it was so nice.  In fact, it was easy to keep running.  On my birthday, I ran 7.5 and then went to mass and received a blessing.  So happy for that time alone to reflect.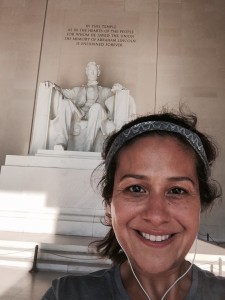 Learning all the time~ the kids learned a lot about Civil Rights during our trip.  Our first stop was Martin Luther King Jr. National Historic Site.  This was a great NHS.  The kids had tons of questions and don't quite understand why people would ever want segregation.  We saw a couple of exhibits in DC with civil rights exhibits and then ended up in Memphis at the National Civl Rights Museum which is where MLK was assassinated.  Our last stop before heading home was Central High in Little Rock.  This entire trip has our family talking.  Especially Snax and Baby Hulk, they have lots of questions.  I have to say I was super excited to return home and remember I had purchased this book.  I had been saving it for the right time and Tuesday was perfect.  The kids learned that Mexicans weren't allowed to attend white schools in California.  The learned about the fight against segregation there for Mexican children.  It was a case I had never learned about even during law school, and I'm proud of the parents and their kids and proud to be Mexican.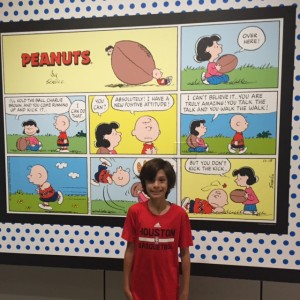 What's in a name~ random, but I wonder why people think it's bad to call me Mexican.  Yes, I'm American, Catholic, Texan and a Longhorn.  But my race is Mexican.  It's not Hispanic.  And I'm not sure why people think it's a big deal to refer to me as such, why they persist in using Hispanic.  Being Mexican isn't a bad thing.
One of my favorite things~ road trips!  Sure, I hate to fly, but I love the road.  And I love the sites we saw along the way.  We toured Atlanta- MLKNHS, World of Coca Cola, Aquarium, Asheville- Biltmore Estate, Virginia- Monticello, Memphis- Graceland (which is pronounced grace-lund which was a total surprise to me) and Nat'l Civil Rights Museum, and Little Rock- Clinton Library (so good!!) and Central High.  Lots of driving, little fussing, lots of snacking and lots of memories.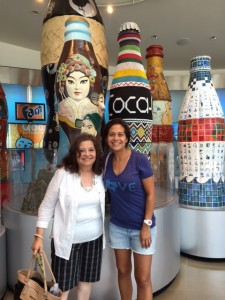 Plans for the week~ well the week is almost over, but I'd like to detox a bit, have a date with my husband, Ive got a baby shower on Saturday along with four basketball games, a musical on Sunday and my MIL is brining my nieces over tomorrow.
Sad, sad, sad~ we have three weeks until school starts.  My stomach is already in knots.  Like the kind I get when I fly.  Not only does Alec have a ton of work to start, but I don't want them back at school.  This summer has flown by so fast.  I've appreciated every second, the good and the bad.  We've gone swimming a lot, taken some good trips and relaxed.  We've got one more quick trip to Austin and then we're done.  I almost want to skip that trip because the more time we're gone the faster summer seems to fly.  Sigh, why can't they just stay home?!
Best trip picture~