With the sound of a whistle and the call of adult swim, summer is officially over.  We spent the afternoon swimming, rushed through showers, made pizzas, read books and prayed.  Kids in bed by 9:30.  Lance's goal was 8:15~ no clue what he was thinking.  Snax didn't fall asleep until after 10.  Tomorrow is going to be hard for him.  And the others.  Even my early bird child hasn't been awake before 7:30 this past week.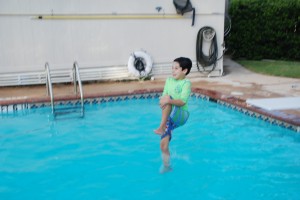 Tomorrow it starts.  Another year of school.  We talked about expectations for the year, goals and ways to make things happen.  I had small instructions for Snax and BH~ stay away from each other on the playground if you can't control yourself.  Reminded Snax to write his full name and try and spell our last name correctly.  And for him to just write and not over think it.  I'll admit I'm worried about him, not enough to spend time over the summer working on handwriting or anything else, but I just can't see him doing as much as is expected this year.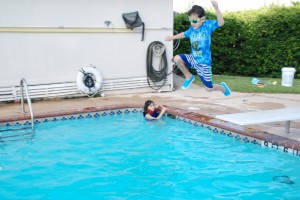 Really, I just want the kids to have a great year.  As far as learning goes, it's nothing big or grand.  Much to my dismay, this school is full of ordinary, uninspired curriculum and work.  The same tired stories, same worksheets, same spelling words (not kidding, I compared Goose and BH's), same projects…nothing changes to make the learning inspired.  Since the learning isn't inspired, I just want good friends, nice teachers that will push when necessary and help when needed.  Not too much to ask.
But at home..we'll do inspired.  I'm putting together my evening basket.  A version of a home schoolers morning basket and I'm so excited about it.  It won't be what I want overall, but it's a small something to ground our day and come together through reading, poetry, art, history and religion.
I mentioned that our summer was intentional, not rushed or forced.  This last week was rushed.  I had a list of several things I wanted to do with the kids from bowling and skating to buying clothes to a playdate with a friend we haven't seen in awhile to taking Goose to a movie with a friend to swimming at least three days.  We managed to do it all.  And yet, I still found my boys playing nonstop with their Legos and matchbox cars.  We did a lot, too much probably, but we kept things in small doses and it was great fun.  Of all things, my ten year old was having some sort of battle with matchbox cars~ the ones I refused to donate just a month ago.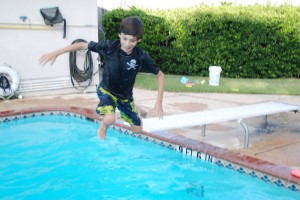 Summer was great.  And sure, I'm going to miss my boys like crazy tomorrow and for the days to come.  But thankfully, we have some great memories from this summer.