Many moons ago, on this date, Lance and I got married.  Was the best day ever.  Lance and I were talking this weekend, and we both decided we wouldn't change a thing.  The ceremony itself was a full mass.  I've forgotten the details of the homily.  But I just remember being happy throughout it all despite my nervousness about all the people there.  The reception?  Amazing.  I've been to few weddings where I had as much fun as I did at my own.  I loved every second of it and all too soon it was over.
Then came real life.  And you know, it's not always easy.  I like things a certain way, and I can't say that anyone in the house seems to like things quite the way I do.  I'm loud, I get frustrated, I'm not emotional.  He's loud, he is emotional, he doesn't like me to cuss so much.  We have five kids.
Did you know that things in marriage tend to get better once the kids leave home?  That's a statistic I heard at my mom's group at church.  Living in the trenches of child rearing right now, I have to say I completely believe those numbers.
But we made a decision.  We chose to love each other.  Even when it is hard, when I'm in a bad mood for no good reason, when he is frustrated because of work, we remember that we're not in it alone.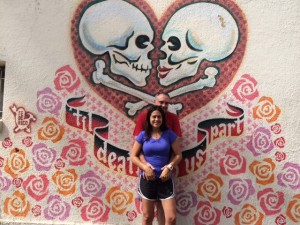 On our way back from an overnight get away, (as usual, my mom watched the kids, thank you, MOM!!!) we stopped at our parish to see if we could find our priest.  He's the same priest that married us.  He was there, we joked about our wedding being just yesterday  and then he gave us a great blessing.  It's a reminder that God is with us.  Something I probably should remember more often.
I love my husband for many reasons, here are just a few that may seem silly, but make me smile or happy: he plays the music game with me when we drive, he searched for 25 minutes in the heat searching for a grave today, he is completely selfish about his time with me and loves to take trips with just me and when I ask him to pray with me, he does.  He's handsome, funny and smarter than me.  He wrestles with the boys and plays music for Sunshine.  And he loves me.
Love is a decision every day.  Thank you for loving me, Lance!