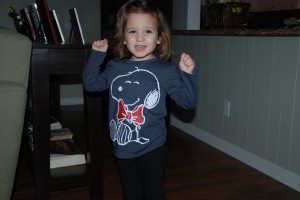 For today:: February 4, 2014
Outside my window:: It's gray, rainy and cold.  It's kind of nice to be snuggled up with Sunshine inside the house.
I am praying for:: a friend who lost her son, my aunt, the souls of two men, patience and simplicity.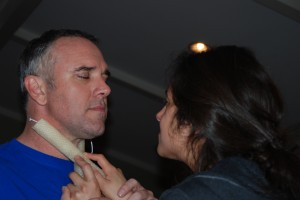 I am reading:: Reconstructing Amelia.
I am watching:: a ton of movies, reviews to come soon, but let's just say I have my personal picks for Best Movie, Actor and Actress.  I assume there isn't a chance that Cate Blanchett loses, but you never know.  It's interesting, though, to listen to my different friends' opinions on movies.  We're alike in so many ways, then I get a text from a friend telling me they are bored in a movie I felt was robbed.  All the women I know were bored in Gravity, while the men loved it.  Ready for docs and foreign films.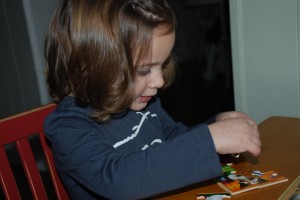 Loving the moments:: when it's just me and Sunshine.  She amazes me on a hourly basis with what she says.  We have been working on a lot of puzzles.  She loves them, and that makes me smile.  I could literally sit and listen to my old mix tapes working on puzzles all day long.  Of course, I don't have time for that anymore so I'll take doing small puzzles with her.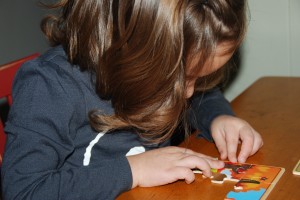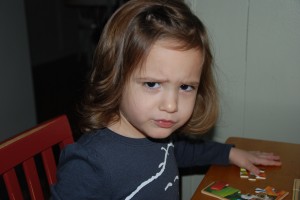 Super frustrated:: that my laptop isn't charging properly and I need to get it fixed.
Happy and content:: that Lance is home after two weeks away.  I have to say the weeks weren't as bad as I thought they might be.  We were busy, but kids were in bed on time with stories every night, I was able to check Goose's math homework, we managed to get a project turned in despite it printing the wrong way and I made hot dinners every single night.  We even had an ice day at home, a field trip to the Museum of Fine Arts to see The Little Dancer by Degas…all in all a great time.  That said, I am so glad my husband doesn't travel for his job but a few times a year.  I like having him around.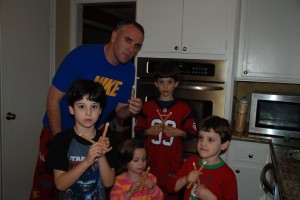 Living the liturgy:: It's a great week in the church~ Candlemas, St. Brigid, St. Blaise, just this week!  We managed to celebrate St. Blaise yesterday on his actual feast day.  The other two we're weaving into the week.  Sunshine ran and got her St. Blaise peg doll and made him smile for the camera!  She also colored a picture for him and made cut outs for him.  It was pretty freaking cute.  Sunshine and I made it mass for the blessing of the throat, but nobody else did so after dinner Lance blessed the boys and then we had treats.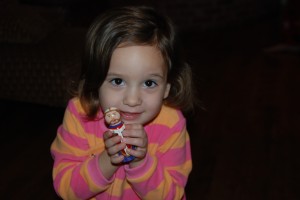 Towards fitness and health:: UGH.  Those ten pounds I kept saying I gained over the last couple of months, well, I wasn't exaggerating.  I finally got on the scale.  YUCK.  Here's the problem, while I could possibly workout a bit harder, I have to admit it's all in the food intake.  Which stinks, because I really like food.  Clearly.  I am contemplating running a half marathon.  I easily ran 6 miles the other day, that's halfway there, right?  We'll see, I'm not sure it makes sense to actually start running in your almost mid-40's.
On the menu:: Salmon and snow peas, soup and Irish soda bread with salad, rice and sausage, fish tacos and spaghetti supper at church on Friday.  Not too bad of a plan.  No baked goodies.  For a long, long time.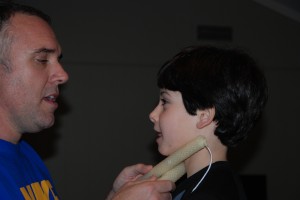 One of my favorite things:: is it appropriate to say vodka?  The spicy vodka from Dolce Vita?  No, okay, how about trying new places?  We went to Caracol for Lance's birthday.  It was pretty freaking great.  I can't wait to go again, except there are so many other places we need to try.
Around the house:: I've decided I want/need to repaint the hallway and kitchen.  After seven years and five kids, it looks bad.  Meanwhile, Sanx wants a new room that includes a brother or sister sleeping in said room.  Poor guy, he hates being alone in his room.  So last night, we moved his mattress to the floor of the other room.  He loved it.  I have to admit it looks really trashy though.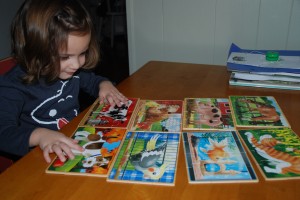 A few plans for the week:: lunch with the boys, Bible storytime, First Friday mass, Rhett Miller concert and basketball games….Oh and study, Goose has a test in science on Friday, SS on Monday, Math on Tuesday as well as his current AR project due Tuesday.  Should be a fun weekend.
A look inside my day::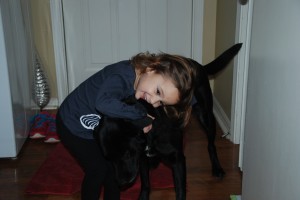 This dog…is an outdoor dog, and I'll admit, I've been trying to find her a new home for years.  Since the weather has been so cold, clearly she's been inside and the kids love it.  And now she expects to come in all. the. time.