Sunday marked the beginning of one of the best weeks in the liturgical calendar~The feast of the Arch Angels.  The kids had angel food cake and read about the angels, even taking some time to learn the St. Michael prayer.
Today we read one of our favorite books, St Jerome and the Lion and since he is credited with translating the Bible, everyone picked their favorite Bible story to share, even Sunshine.  Her story was about Moses; she is currently obsessed with Moses.
We'll have small celebrations throughout the week to honor St. Therese, The Guardian Angels and St. Francis.  I love being Catholic, and all the fabulous saints are one of the reasons.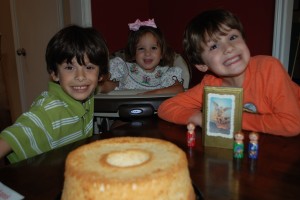 I read this great quote from St. Jerome today several times.  I think it's pretty amazing.  Also, he's the patron of librarians!!  Isn't that the best???
So valuable to heaven is the dignity of the human soul that every member of the human race has a guardian angel from the moment the person begins to be.
St. Jerome
Doctor of the Church
Happy feasting!