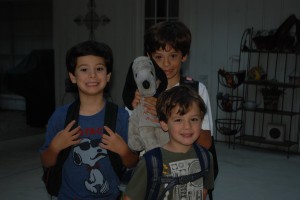 Kicking and screaming, I took the kids to school this morning.  On time.  After repeated requests to this stupid school over the past four years, they finally allowed parents to walk their kids to their kindergarten class on the first day of school.
It's the small victories that make me feel like I can do anything.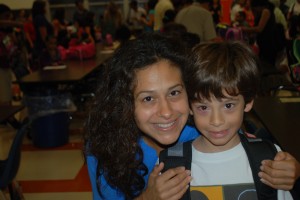 There were smiles from the first and fourth graders who were happy to see school friends.  It was really sweet seeing Goose with two of his best buddies before school actually started.  Last year, Baby Hulk wanted me to sit with him each morning before school began.  Today he was just a bit older, allowing me time with his younger brother.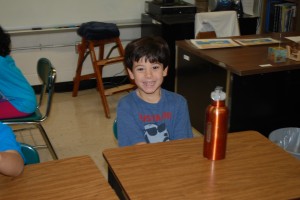 And Snax…he knows his way around this school.  He's been whatever about starting school only caring about recess.  Today, he was slightly shy, but not too worried.  He was happy when I returned for lunch and told me he isn't sure he really wants to go back to school.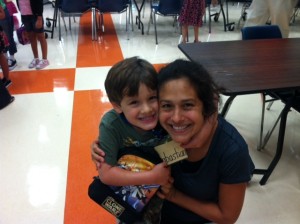 As for me, I took Squirt and Sunshine to the gym and worked out like a demon in an effort to take my mind off of things.  I haven't had just one child home during the day since Goose and I used to drop off Squirt at school.  It seems weird.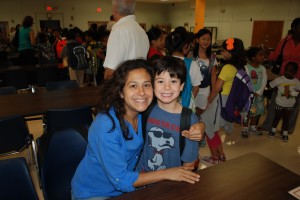 For whatever reason, Snax's name was spelled wrong on everything.  We noticed on Friday and told the teacher.  She only changed his name tag on his desk.  In the time I was at school, he told her four different times she needed to fix his name.  Good luck with this kid!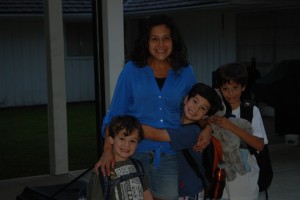 I'm off to complete paperwork for each child.  Why in 2013 are we still filling out the same paperwork by hand????  They can't save this information in their system?  Maybe I'll start working on that so that by the time Sunshine goes to school, I can just enter information via my computer.