About four years ago a mom came up to me during Bodypump to ask if I was Mason's mom.  Her son and my son were constantly playing together as opposed to side by side in the daycare at Trotter.  They were in the middle room back then, only 2 and forming a bond.  I hadn't seen my other two children form a friendship that early.  But clearly that's what it was.  And lucky me, I also found a friend.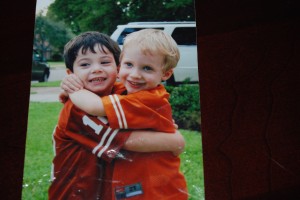 Walter is BH's bestest friend.  On the first day of school last fall, he called him to talk about their days.  He called him first thing when he lost his first tooth and bright and early on W's birthday.  He missed not seeing him during the school year, but field trips and time at the YAC helped make up for it.  Every early release day found our families together.
I assumed next year would be the same.
But they are moving tomorrow.
Today BH prayed that they would move to Austin and not like it quite so much and come back home.  I admit I feel the same way.
Not only did my son make a best buddy, but so did I.  A friend who is always positive, who is clear headed and thinks like I do about school.  When we met, her son was in preschool, but we started talking and soon he was out.  We researched homeschooling together, finding poetry, nature ideas and science themes.  We'd trade out books.  The librarian would place my holds under her name at times.  I'd have to say that two years ago with BH was so great partly because I was sharing it with someone else.
This week, she moves and is taking the plunge that we aren't.  I'm extremely sad that this wonderful family is moving.  I'm a mixture of jealous and excited that she is going to homeschool her wonderful boys.  We've discussed curriculum options, and she made a big decision.  I feel like I am as anxious as her about this next step.
Besides the obvious dislike of traditional school/desire to homeschool we shared, she is also a trusted friend who listened and shared.  She encouraged me in spin despite being a front rower, always having a positive word for me.
I'm going to miss this family so much.  Sunshine loves her boys, we used to tease that Sunshine would marry W one day.  Her husband and Snax joke with each other and our 4th graders get along too.  They are only moving to Austin, but already I'm just down about it.  I won't see her after I drop the boys off on the first day of school..what if I can't reach her when something at school drives me crazy…who do I tell when I improve my watts in spin?!
Just a phone call and 2 1/2 hours away.
I'm excited for her family.  Sad for me and my boys.
But grateful.  Always grateful for my friend and for my son's friend.