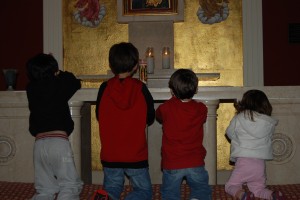 Seriously, does it get better than this?
Today, we visited the Basilica in Mobile, a beautiful church.  I was the last one in the church and walked in and found the kids praying.  Should I have joined them?  Probably yes, but I have been wanting this image forever.  Sunshine kneels each time she enters the pew and during the consecration.  She is imitating the boys, and it is so freaking adorable.  Of course, I can't whip out a camera during mass, but today…we were visiting and clearly, I felt it acceptable.
The church was truly wonderful and had a small chapel in the basement which reminded me of Cathedrals in Europe.  I shared a story with Goose about attending mass in the lower chapel of the Basilica of St. Francis in Assisi.  One of the most amazing experiences for me, I was waiting for daily mass to start and monks came in chanting.  It was so mesmerizing.  Often, I tell stories and Goose responds with "cool", a clear indication he doesn't care. This time, he told me how happy he was that I shared the story with him.
After taking the photo, i joined the kids in prayer.  I reminded them that the conclave starts tomorrow.  We talked about all the Cardinals being at the Vatican.  Then we prayed.
I've stayed away from reading about the impending election for various reasons, but mainly because nothing good comes from speculation.  (I love the fact that the ballots are always burned so we can't study how the Cardinals vote.)
I trust that despite the failings of humans, the Holy Spirit will prevail.
Come, Holy Spirit, lead the Cardinals and most importantly, lead our next Holy Father.