For Today…February 4, 2013
Outside my window…it's overcast, but fine.  I can't believe how perfect this weekend was.  Of course, early Spring weather can only mean a hotter summer than normal.
I am listening to…Snax.  It's a trip.
I am thankful…my husband is home, that we had a date with movie and a dinner, that my mom babysits whenever we ask, and mostly, that my year has been less stressful.  Maybe I'm learning to deal with school better, maybe I'm more interested in Snax now that he wants to read, I don't know, it's just a little bit better and for that I'm thankful.
I am praying for…my pregnant friends, a dear friend with cancer, a cure for Duchenne MD, a special intention and a peaceful spring semester.
Reading with the kids…We have several of the Bluebonnet nominees in our home right now.  Our current favorite is Thunder Birds, but it doesn't stand a chance to win. We read several picture books on the list as well as some of the chapter books.  We enjoyed all of them quite a bit.  I was also pretty excited that Extra Yarn was named a Caldecott Honor Book.  We haven't read the other winners, but they are on the list to check out from the library.
Movies all the time…Saw Beasts of the Southern Wild.  Let's be blunt, I hated it.  Lance said it didn't do anything for him.  It gave me a headache.  I honestly don't think any of the nominations for this movie are worth it, from actress to director.  Saw Lincoln, just like everyone says, Daniel Day Lewis is phenomenal.  It's a good movie, but not close to a favorite for the year.  The goal is to finish up the mainstream movies in two weeks, so we can focus on the documentaries before the Oscars.  I think we can do it.  Or maybe I'm deluding myself considering I didn't watch any movies last night.
To be fit and happy…I'm fit.  I'm just not happy with the lack of results.  I think I've said this every week of my life except for the years before and after Snax when I was super skinny.  Today at the gym I heard two people moan about gaining two pounds, both of whom compete, so I'm not feeling like such a psycho girl anymore.
Learning all the time…Snax is just moving right along, where four months ago, I had serious worries about his work ethic and overall knowledge, I'm not worried anymore.  He is who he is and that's a smart kid who works at his own pace.  I have really learned a lot from him this year on what works and when to really step back.  I'm trying to incorporate more unit studies with him, I think he is finally ready.  Plus, we have to add PE in the form of swimming.  Please, don't make me go back to hell known as Houston Swim Club.
Trying to plan…something for Spring Break.  I feel like I've earned it.  And so have the children.
Snax…frequently colors his face with marker.  Today he was trying to be Santa Claus.
Living the liturgual year…ugh…we missed Candelmas, which is kind of okay because I didn't have any new candles to bless this year, but still…we're celebrating St. Brigid and St. Blaise this week even though both their feast days already passed.  I am slightly annoyed that certain parishes had the blessing of the throat yesterday after mass while the church I attended yesterday did not.  Lastly, LENT starts next week.  Simple, simple plans, but they still require me to be prepared.
Learning lessons in…patience.  There is definitely a reason God gave me five kids and a husband who doesn't always do things exactly the way I want and when I want.  Patience is one of those virtues I really wish I had without having to work for it.
One of my favorite things…hearing a certain someone sound out words when we're out and about.
A few plans for the week…Audubon, Storytime, movie marathon watching, park, breakfast buffet and a date to see Amour.  Throw in a couple of crafts, and the week's done.
A picture to share…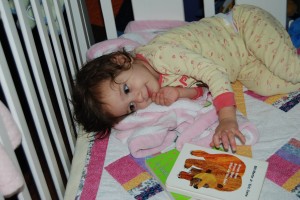 Another Zierlein taking books to bed