In an attempt to preserve memories while I can, I am randomly updating in little pockets of time.  Advent was fine.  Not as spiritually profound as I would have liked, but not a total disappointment.  In the end, we lit the candles all but five days and sang and prayed together.  We celebrated St. Nicholas, St. Juan Diego and Our Lady of Guadalupe and the Immaculate Conception.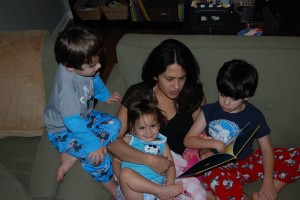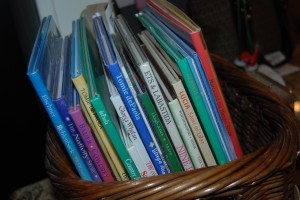 We read almost every single night.  Really read.  My poor kids haven't seen a bedtime before 9 in a month.  All in the name of reading.  I love our books though.  They are truly wonderful.  We have three baskets full of Christmas reading that I bring slowly out so the kids aren't completely overwhelmed the first week of Advent.  My favorite find this year was definitely Marta and the Manger Straw.  When I hear a child say, "I remember this one, I love it.",  well, it makes me heart swell.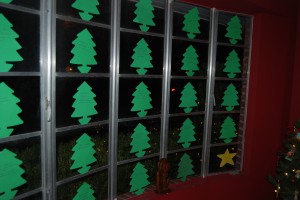 This year we counted down Advent by adding a tree to each window in the dining room.  The windows looked really cool from the outside as we added a new tree each day.  We had simple plans for each day, including one that was just a day of rest.  We made our Advent candles, baked, made cards for our cousins and spent a lot of time talking about what Christmas really means.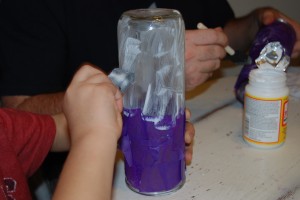 The first Sunday of Advent, our priest talked about four things: wait, prepare, rejoice and proclaim.  Baby Hulk still talks about those four things.  During our week to rejoice, we decorated the house with the exception of the tree.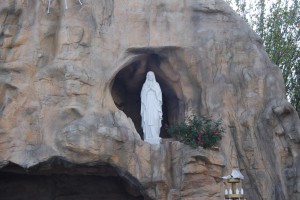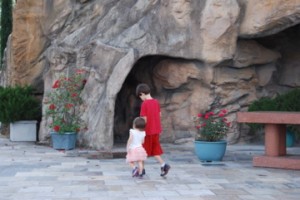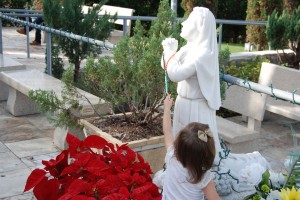 For the Feast of the Immaculate Conception we visited one of our favorite places: the grotto at Our Lady of Lourdes.  I love this place.  It's peaceful, beautiful and makes us reflect on our faith.  The boys have their favorite spots and each tried to pull Sunshine to different areas to show her.  St. Bernadette is one of those saints that speaks to me.  (And although we're not focusing on the Way of the Cross right now, the boys refused to leave without first stopping at each station.)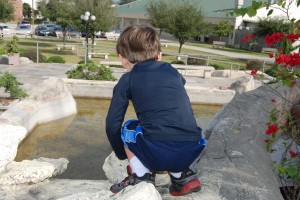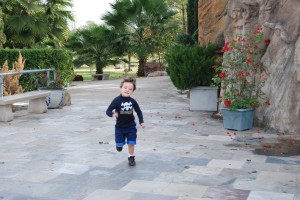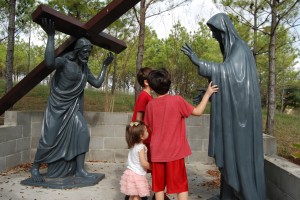 And would any holiday in this house be complete without Snoopy?  The decorations in our home go one of two ways: Snoopy or nativity scenes.  I love Snoopy, my kids love Snoopy and he makes us smile.  The kids watched the movie complete with their Snoopys by their side.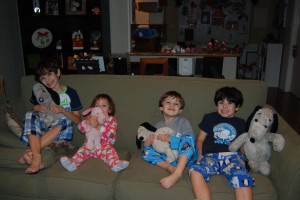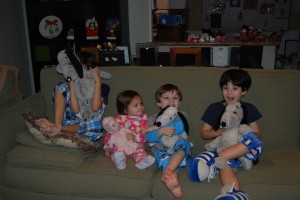 We celebrated with Grandma and Grandpa Zierlein with a brunch.  The boys also opened their gifts from them that day which was nice.  Opening a ton of gifts on Christmas day is so overwhelming for the kids.  They can hardly appreciate anything they receive.
For all of the stress of this season, Christmas Eve was so relaxing.  Surprising since I hadn't grocery shopped for our Christmas dinner, had two last gifts to purchase (no clue how that happened since I've been done for three weeks!) and Lance had an allergic reaction to dye which had me picking him up and leaving his car on the other side of town.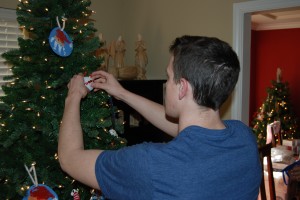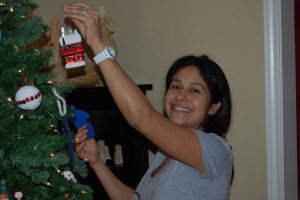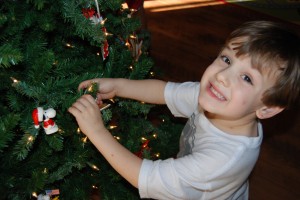 I have been wanting to decorate the Christmas tree on Christmas Eve for years.  And the anticipation for the boys was pretty intense.  Goose topped the tree with our new angel.  He made sure everyone knew it was his turn this year.  And Sunshine, well she missed decorating the tree, but was pretty happy with the results.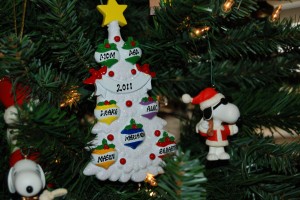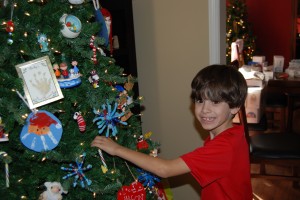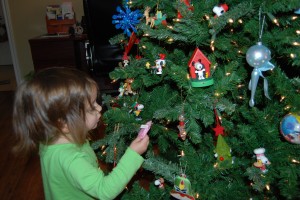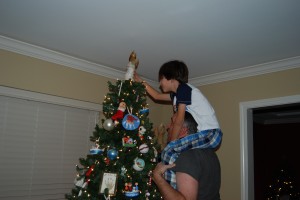 Trulucks was amazing as usual.  The kids behave really well while there.  How I wish they acted like they were at Trulucks every time we went out to eat.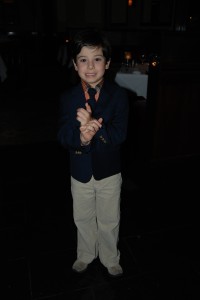 And the there was Christmas…which I guess is a post for another day.