Last weekend my family celebrated my Aunt Mary's 100th birthday.
Yes, 100 years.
She is 98 years older than Sunshine.
It's hard to fathom.  Yet it is so beautiful to think Aunt Mary has lived this long.  She is very important to our immediate family, especially my father.  When I was young, I remember the long drive to Brady to visit her and my other aunts as well as my mom's parents.  They all lived in Brady, Texas.  It wasn't a very exciting town, but we knew we were loved there.  Today, she lives with my father.  He and my mom take care of her.
She loves sweets about as much as Lance and I do.  She has an amazing collection of miniature tea sets.  Her favorite saint is St. Cecilia, whose feast day is on her birthday.  And purple is her favorite color.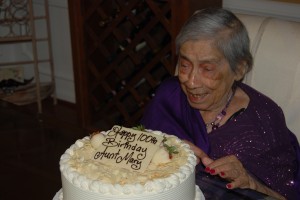 We're extremely blessed to have her in our lives.  All the boys are sweet with her, but one in particular is pretty loving.  It makes my heart happy.  I think it's kind of cool that my kids are able to say they know someone who is 100 years old!
Happy Birthday, Aunt Mary.  Do whatever the heck you want.  You have certainly earned it.  I love you!