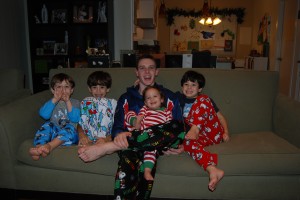 The kids woke up to gold coins at breakfast to signify St. Nicholas' generosity and new pj's.  And of course, books.
I used to buy the boys matching pj's, but it appears those years have passed.  In fact, I could only find pj pants this year for Goose, Baby Hulk and Squirt.  Squirt scored big time this year.
Personally, I would love to just celebrate St. Nicholas and skip Santa, but Lance won't allow it.  That's fine, the best presents still come from me.  And this year, I've drawn the line with that elf.  He has flown the coop and won't be coming back.