Today we have a new saint!!!
Blessed Kateri Tekakwitha was canonized, and  I couldn't be happier.
She is an American and the first Native American to be canonized.
When Squirt as 7, we used to read this little book about saints each day.  He would practice writing, (in what I would now consider narration but didn't know that's what I was doing at the time), and tell me about the saint.  We loved her.  I can't explain why, we just did.  He still has that little notebook of narrations.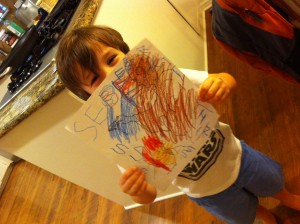 When I was pregnant with Goose and Snax, I prayed that I would deliver on her feast day.  I considered Kateri as a name for Sunshine.
When I had Super Saints, we studied Blessed Kateri.  Of the many crafts we did over that year, Goose kept his cross.  There's just something about her that draws us to her.
And recently, when I ordered Sunshine those sweet little peg dolls…I ordered Kateri.  In fact, when I placed the order, she was still Blessed Kateri.  I informed the artist of her impending canonization just in case he put names on the peg dolls.   My package arrived this week with Saint Kateri in it.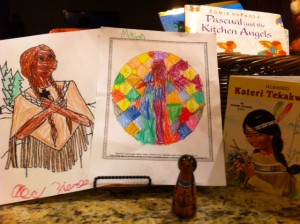 It turns out that my uncle is working in New York for the year and is close to her shrine.  What are the odds?  I've asked him to visit for us and take lots of pictures, which I'm sure he will.  But maybe, just maybe we'll get to visit as well.
Saint Kateri Tekakwitha, pray for us!  And Congratulations on your sainthood!!!