Baby Hulk,
Last night I packed your Wookie t-shirt.  It's too small for you.  I didn't put it in the attic for your brother or in the donation pile.  It's yours.  But it's starting to look a bit too short on you.  Your dad says it's time.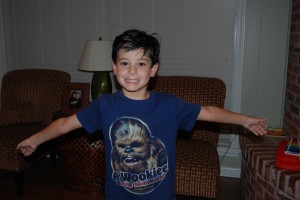 And it is.
Time to move in another direction.
It's your first day of school.  Your first day of somebody other than me teaching you.
Academically, you're ready.  More than ready.  (You're welcome to any teacher you have in the next three years.)  I do have concerns, not the typical "no school will be good enough" concerns.  Concerns I won't write here.  Concerns I take to the altar, to Mary.
I pray that your teacher appreciates the amazing, sensitive and quite honestly, brilliant boy that you are.  I hope she embraces the bit of quirkiness you have.  I pray that she has patience with you and that she keeps the fire going that I started in you.  I hope she finds ways to keep you engaged and interested.  I hope you find friends that are kind and interesting.  I hope that you flourish in school.
And every day, I will be waiting to hear all about your day.
My sweet, handsome, smart little boy, I love you so much.  I'll miss learning with you and teaching you.  A secret, thus far, you are my best student.  I already miss your sweet little face.  I pray that God watches over you, that Mary mothers you when I'm not there and that those five little saints known as your sisters storm heaven to keep you happy and safe.  Maybe they can throw a few prayers my way too, that I stay sane while you're gone.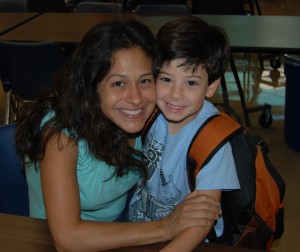 Happy First Day of School, BH.
St. Gerard pray for my boy.
PS…that bitch who didn't let me say goodbye this morning, well, she'll pay.  I promise you that.  SHE. WILL. PAY.