A friend gave Goose a prayer board on his First Communion.  This was his first prayer…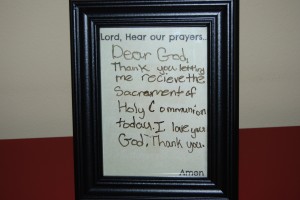 Sweet.
But I thought the entire family needed to be in on the action.  I moved the frame to the dining room, the one place where we meet every single evening.  Together.
And here are our prayers for this week.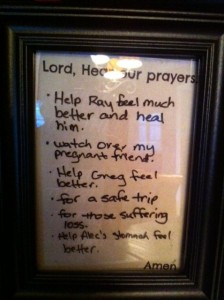 Two of the prayers will stay with us.
One: A happy, happy prayer, both in thanksgiving for the gift of life and to maintain a healthy pregnancy.  With our history of miscarriage, praying for pregnancy is a serious thing.  My children, even Squirt, have no idea of our history of miscarriage, but they are good prayer warriors.  A random fact, I remember finally telling Chelsea in college about it- A sure sign of crossing the threshold to becoming an adult.  I digress…there is joy.  So much joy for my friend right now.  So we pray and will pray until there is a safe delivery.  Every. Single. Day.
The other, a prayer for healing.  A friend has lymphoma.  He has had several varieties of cancer.  That sounds flippant, but I don't mean it to be.  He's beat cancer so many times.  Right now, he's sick.  We saw him today, and he looks weak.  We will pray until remission comes.  I have a wonderful healing prayer that I say for him.  I beg His mercy.
Thanks to my friend who gave Goose this gift.  It truly helps our entire family.