Lent wasn't as fruitful as I hoped this year.  It seems our bad luck continues, and it has become extremely frustrating.  Then there is real life that gets in the way, kids that don't always behave, homework, personal stuff and so on.  Then life hits you with something that takes your breath away and you want to kind of give up.  Except you can't.  So I prayed a lot more.  And if my journey wasn't as fruitful as I hoped, it's okay.  I feel more grateful, I'm more aware right now than I was on Ash Wednesday.
But there were moments this week.  Moments I have to pause and acknowledge.  Grace is always there, if only I take note.
::Baby Z spotting her biggest brother during the procession at mass on Holy Thursday.  Squirt is an altar server, and while he is generally very serious during the procession, he couldn't help but smile when he saw the look on her face.  She was so happy to see her biggest brother.
::Squirt serving on Holy Thursday.  He carried the incense and played a big role in the service.  Very proud moment for me.
::No David talking nonstop about carrying the cross.  Of course, he is still too young to fully understand what Lent is all about and Jesus dying on the cross, but this is a start.  He sees a cross and immediately identifies it with Jesus carrying "the heavy cross".
::Holy Saturday mass with my mom.  It gets me every year, and it was no different this year.  When the candidates processed through the church before being Baptized and Confirmed, I got tears in my eyes.  (Too bad Lance doesn't go to this mass with me.  He might actually see me cry.)  This mass is incredible.
::Lance going to buy me Baskin Robbins pralines and cream ice cream.  I gave up sweets for Lent.  And for whatever reason, this ice cream has been on my mind for most of Lent.  (I couldn't' even tell you the last time I went to Baskin Robbins.)  I'm a girl who loves sweets, but cakes and cookies are my thing.  Yesterday I went over all the recipes I've pinned, and while I did come up with some things to try, I wanted this.  So off he went to get it for me.
::Taking the gifts to the altar on Easter Sunday.  When I was a kid, I always wanted to present the gifts at mass.  We never did.  Now I have and it's just as special as I always thought it would be.
::Right before we walked to the altar, Lance told me to pray.
::No David talking with my aunt Mary yesterday.  Aunt Mary is pretty old, past 90.  The kids are all very sweet with her, particularly No David and Baby Hulk.  We were supposed to be getting ice cream on Saturday, and No David sat at the table talking to her about his favorite flavors and asking her about hers.  So very sweet.
::The little old man sitting next to me during mass on Holy Saturday.  A very nice man who moved so I could see all the Baptisms.  I wondered about his life: was his wife still alive, and such.  Regardless, he was elderly, but he was still there late last night.
::The kids annoyed because it took my parents too long to get to the house on Saturday.  I like that they want to see their grandparents.
::The sacrament of confession.  Confession is a tricky thing.  So many people don't understand it, both Catholic and non-Catholics.  But somehow during Lent, all those Catholics who don't really "agree" with it, come out in masses.  And it's wonderful.  I waited in line on Friday for an hour.  It was worth it.  The priest was excellent and caring and told me to come back.  What can I say?  I'm a work in progress.
::Watching a brother and sister talk and catch up.  And go hang out without me.  Knowing how I feel about my brother, this is a good thing to watch.
::Listening to Lance talk and laugh with one of his oldest friends while watching the boys play with his kids.
::In her wisdom, the Church provides 50 days to celebrate Easter.  So all those  "activities" I wasn't able to do today will get done.  I have lots of time to celebrate.
"Do not abandon yourselves to despair.  We are the Easter people and Alleluia is our song." Pope John Paul II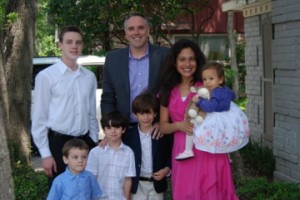 Happy Easter!
Alleluia, Alleluia!