I'm not a big fan of baseball.  In fact, I'm not a fan at all.  It's just too slow for me.  We've taken the boys to one game.  That was two years ago.  Because of my lack of interest, I've never encouraged baseball in this house.  However, we don't seem to have skills in soccer and Goose is still too young to play football so baseball it is.
In keeping with my simplicity minded parenting, I opted for the YMCA instead of the Bellaire league.  I just couldn't justify playing ball three days a week.  Two boys in sports in a family of five kids.  It's just not fair for the rest of the family and not necessary at this age.  So we practice one day a week, and we play games on Saturdays.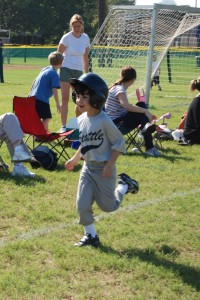 And it's fun.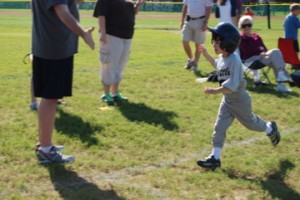 Goose played t-ball when he was 3 and 4.  I was a little worried about how he'd play, but he's actually pretty good.  He throws well and is a decent little hitter.  He needs to work on catching and paying a bit more attention during the game, but that's okay.  Today was his second game, and I was surprised with how much I enjoyed it.  It's kind of what I always pictured having a lot of boys.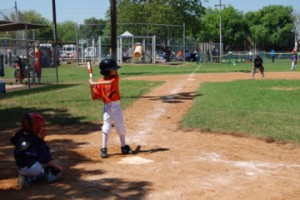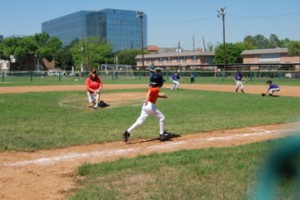 Baby Hulk is playing coach pitch/ t-ball.  It's fun when he gets to bat.  When he's playing the outfield, I have to tell him to stand up.  I have caught him playing in the dirt several times.  Today, he played first base and just sat down because he was bored.  Me, I wasn't bored.  I was texting Chelsea about the moms wearing matching shirts for their kids' t-ball team.  Really??  Is that what the cool moms do?  Have shirts made for their 5 year old's t-ball teams?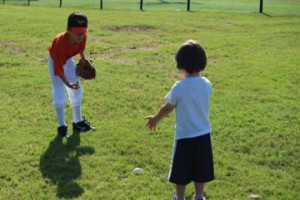 The only thing worse than that was the snack bar in Goose's dugout.  The game was at 9 this morning.  His team was first at bat, so he was having a bag of chips by fifteen after 9.  Seriously?  These kids can't wait until the game is over to have their snacks?  As soon as I saw him eating, I let him know that he couldn't eat until after the game.  The moms in charge of snacks looked at me like I was crazy.  And then made a huge announcement about Goose not having anymore snacks.  For the rest of the game, the team ate so much, including Twizzlers, yes Twizzlers, that there weren't any drinks or snacks to have at the end of the game.  The game ended at 10:15.