For Today…January 9, 2011
Outside my window…it's dark and rainy.  I can't see the curb anymore.  My yard is a mess.  Kind of glad I came right home after dropping the boys off at school.  Even though I could use the gym.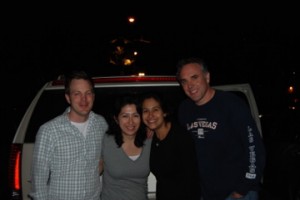 I am wearing…my workout clothes.  I'm hopeful that maybe later I'll get to the gym.
I am listening to…the sound of heavy rain.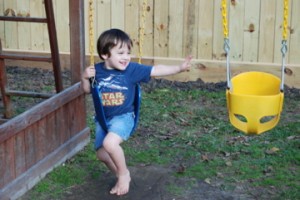 I am praying for…the repose of the soul of a dear friend's father who last his battle with cancer, rather quickly.  For my mom's friend who is close to losing her battle also.  Join me please.  For a friend who is pregnant.
Updated to add…sometimes life just kicks you in the ass.  My mom's friend passed away before I could even post this.  And my friend, she had a miscarriage.  Sometimes there are no words that seem sufficient.  I can only pray to a new little Saint that I know is praying for his mom right now.  He is taking all those prayers to Jesus, I know this.
Lessons learned about…purgatory.  When I told the Baby Hulk about my friend's father his response: "well we know he's in purgatory.  Guess we need to pray for him."  I wondered if my friend, not Catholic, would appreciate the story or want to punch him.  Just in case it was the latter, I didn't tell her.
I am grateful for…several visits with friends over the past couple of weeks.  Of course, there was our time with Paul and Brian that I'm always grateful to have, but we also met with the gang from Apedonkey, my friends from Michigan, had lunch with a friend and my cousin and his family came for the weekend.  There were lots of kids involved.  And it was all wonderful.  We were with people we enjoyed, and the kids had a great time.  At one point, we were at Star Pizza with ten kids.  It was pretty incredible how much fun we had.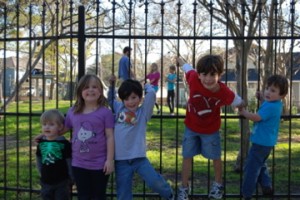 Around the house…the Kings came and went.  I'll admit that by Friday evening, all of my decorations were put away even though we didn't celebrate the Epiphany until today at church.  I cleaned like a mad woman and now it's time to get rid of the clutter.  Again.  My new goal is to clean every. single. drawer in this house.  I want to finish this by the end of the month.
Learning all the time…the big boys went back to school this week.  And the little boys started back as well.  Noticing that our unit on Winter has little meaning for the Baby Hulk right now due to such warm weather.  I am trying to find new ways to engage No David because he is ready for more.   Except he doesn't know he's ready.  And not a lot, just some fun stuff, possibly getting him to learn how to write something, hold a pencil.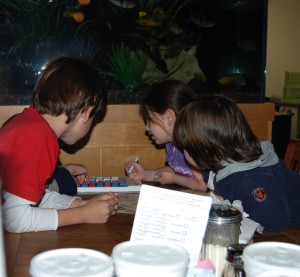 Towards rhythm…we're heading back into ordinary time in the church.  Christmas will be officially over tonight.  I'm hoping to reflect this season of the ordinary in all that we do from eating to learning to living.  Ordinary doesn't mean boring, but it's certainly not the same as Christmas.
In the kitchen…new goal: each month we will make a large menu to reflect seasonal foods.  We will have about twenty choices in which to make a menu for the month.  I'm already behind on this small goal.
Baby love…no, we're not pregnant.  That said, I was holding my cousin's new baby with stars in my eyes, and Lance just shook his head no.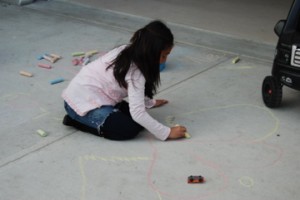 For the year…I want to be joyful and grateful.  I want to cultivate the virtue of joy, which isn't as easy as one would think.  And I want to be grateful.  For everything, the good, the bad, the fun, the frustrating.  How do you cultivate joy when there is such sorrow right now?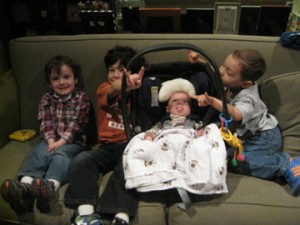 One of my favorite things…watching my kids play with their cousins.  My Godson was here this weekend, he turns 4 this week, and the boys just loved him.  My brother, his wife and my niece came over  as well, and the kids were running all over the place having a great time together.  Squirt went to another cousin's sweet 16 birthday party Saturday evening and had a blast.  Tonight, Squirt was listening to me and my cousin and said, "cool, one day me and K will be like this with our families."  I pray they are.  Families are a funny thing.  You can't pick them, they drive you absolutely crazy a lot of the time, but honestly, few things can make you happier.  I'm glad to be close to my cousin and his wife so that one day our kids will indeed be having family gatherings too.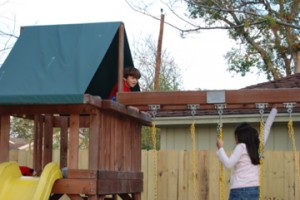 On being fit and happy…For the most part, the pain from the shingles is gone.  And I'm happy about that.  Now to get into a routine at the gym again.  Trying some different things to get motivated.  Maybe trying on my jeans will do the trick.
A few plans for the week…hopefully a trip to the play-scape, learning, finishing a project with Goose and starting on those drawers.
A picture thought…