The funny thing about Halloween is that I hate dressing up.  I would avoid a costume party at all costs.  Thankfully, Lance feels the same way.  As for our kids, they love dressing up.  And Lance loves to dress them.  He does it to impress Chris.  Really, that's it.  In fact, twice we've gone straight to his place for candy knowing that people might not appreciate our kids.  After last year's Party City costumes, I've been on Lance to get moving.  I knew we only had one year left to control No David's costume.  Plus, he started saying he was going to be a cat.  Nothing against cats, but no chance in hell was my son going to be a cat for Halloween.  So Meth dealer it was.
I think Lance did a great job this year.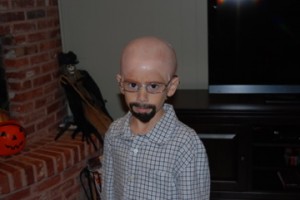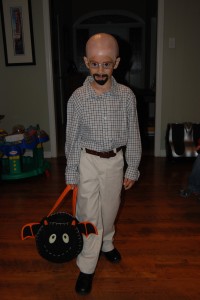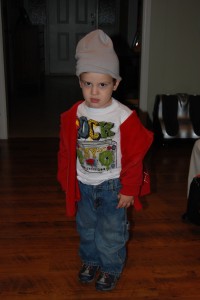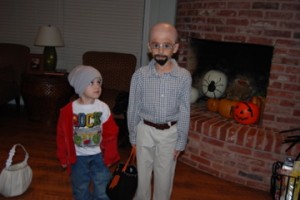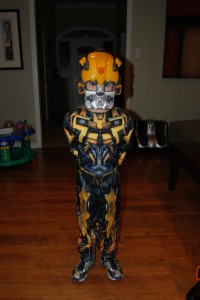 As we walked through the neighborhood, Goose was told over and over how awesome his costume was.  I worried a bit about Baby Hulk's feelings, but he stood firm in his decision to stay away from his father's antics.  He was my proud Bumblebee.  He was happy that Goose didn't received rocks in his bag.
Earlier he asked Lance if he would want to have a bald head as a little boy.  How can you argue with that?  Besides, Lance knew Goose was his man for the night.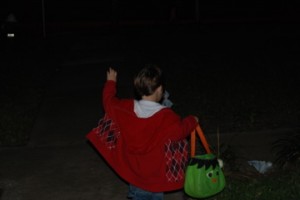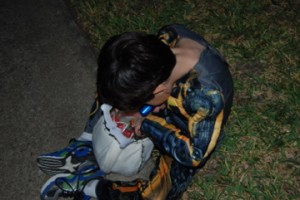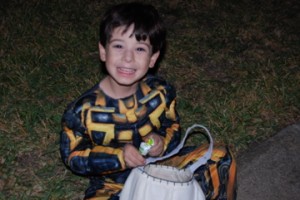 Overall, a successful evening.  I know it won't be easy to convince any of the boys to do what we want next year, but thankfully, we've still got Baby Z.