Is there a curse on my house?  I have a broken dishwasher, (yes, I am still washing dishes by hand), a leak in my disposal, an entryway that needs new windows, and now our television went bust.
Lance came home ready to watch Sunday night's football game only to find that the television wasn't working.  Interesting enough, (to me at least), he managed to get the thing into the car and to a repair shop by himself.  Our dishwasher has been broken for almost two months.
Yesterday I was bragging about my kids' behavior at mass.  I was mother extraordinaire with how awesome they were.  Today we went to Costco.  I'm relatively lax in my parenting at Costco much to their dismay.  In fact, I consider Costco to be like a playground for my kids.  While I was searching for several bottles of cheap wine and they were checking out toys, I ran into someone I hadn't seen in probably two years.  And of course, that's when my kids decided to act like kids.  Really bad kids.  No David started with his crap of yelling at me.  So I immediately put him in the cart, "no more running wild in the store for you".  And there went the little catch up session with me leaving feeling like a big loser.
Lance has decided that Baby Hulk is going as Walter White from Breaking Bad for Halloween with No David going as Jesse Pinkman.  He just came home with a bald cap and goatee from Frankels, meaning overpriced.  Baby Hulk is about to lose it.  He has had two really awesome costumes via Lance: The Hulk and Don Draper.  He is now at the age where he has no interest in dressing up for Lance's whims.  I get this, I thought it was No David's turn.  Not sure how this is going to turn out.  The bribes are already starting.
Speaking of Halloween, am I the worst mother if I don't dress Baby Z up in a costume?  I realize it's only 20 bucks, but really?  I can spend the money so many better ways, including another bottle of wine for myself.  I am thinking of putting a message on Twitter to see if anyone wants me to borrow the costume they bought for their baby girl years ago.
Instead of waiting on inter-library loan, I went to the Oak Forest branch today since online it appeared they had the majority of the books I needed for Fall.  So glad I went.  Their children's section is amazing.  Not only did I find the Fall books I wanted, I also  found the living math books I have been seeking for months.  True story- right before I found the books, I said a little prayer to St. Anthony asking that I find any books that might be of use to my little boys.  I then put Baby Z down and she pulled one of the books off the shelf.  Between my Fall books, the living math books and books for BH to read, I have reached the limit of 50 books.
I have found two separate pieces of gum in various places in my house.  The pantry was one.  Gross.  Who does that?  Dare I admit?
Lance tried the Walter White bribe on Goose.  So far it isn't working.
Squirt went to homecoming with Jessica Saturday evening.  Here are a couple of pictures from that night.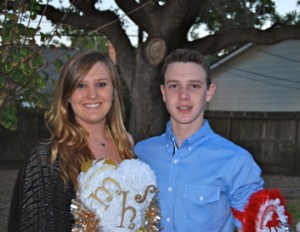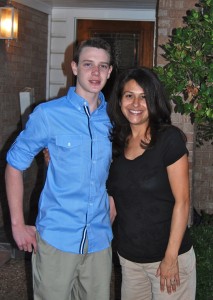 I started this post last night.  Just now finishing up and there is another television in my living room.  It's nice that I can watch television while doing the dishes.